"Clowns to the left of me, jokers to the right, here I am, stuck in the middle with you." – Stealers Wheel
buy name brand viagra cialis online I don't mean to imply that either France or Germany are clowns or jokers, but there is no doubt that Alsace has been stuck in the middle of a tug-of-war between these two neighboring countries that has lasted centuries. Geography and politics have made this area of France (and sometimes Germany) into a cultural hodgepodge that extends into the realm of food and wine.
Would the Owner of This Region Please Stand Up?
The residents of Alsace have the pleasure of sitting right on the border of France and Germany, a precarious position that has seen their home bounce back and forth between being a French and German territory. Most recently this fluid nationality situation reared it's head during World War II, when Alsace was occupied by Germany before being returned to France at the end of the war. This wasn't, however, the first time that Alsace had changed hands. In fact, the area has been in the hands of Celts, Romans (who originally established Alsace as a viticultural center), as well as its multiple stints as a German and French territory.
This back and forth has lead to a lot of turmoil over the years, but it has also created a unique culture in the region that runs along the west bank of the Rhine river. Much of Alsatian cuisine and architecture has a strongly germanic tinge to it, while the primary language of Alsace is French, and many other elements of the culture have taken on a French character.
And Now to the Wines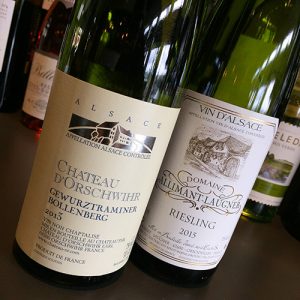 The German influence on the wines of Alsace is quite clear,
with two of the primary grapes grown in the region being varieties normally associated with Germany. Alsace primarily produces white wines, with Riesling and Gewurtztraminer being the stars of the region. You will also find Pinot Blanc, Pinot Gris, and Pinot Noir, as well as a hand full of other varieties.
The wines that come from Alsace can be quite surprising for Alsace virgins. The Rieslings are dependably dry, which throws a lot of American palates for a loop when they are used to sweeter versions of the grape. Dry Riesling exists allover the globe, but many wine drinkers still associate Riesling with sweetness. Even the Gewurtztraminer grown in Alsace is often surprisingly dry, although you do find many of the examples from this region to have a touch of sweetness, offset by delightful acidity.
Oh, and the aromas! Alsatian wines are some of the most beautifully aromatic white wines on the planet. Floral and stone-fruity notes jump out of the glass of these wines. You can also get some lovely richness in many of these wines, and some surprisingly high alcohol levels (sometimes as high as 15%.) These are not your sorority sister's Riesling.
Did I Mention the Bubbly?
In addition to the lovely Alsatian still wines, the area has become known for one of the best French Champagne alternatives, Crémant d'Alsace. The wines are made using the Champagne method, and feature the only Chardonnay grapes allowed in the region, as well as Pinot Blanc, Pinot Gris, Pinot Noir, and Riesling. Not only that, you can find some really awesome rosé bubbly that is made from 100% Pinot Noir.
Expand Your Mind
If you haven't explored the wines of Alsace, you should do yourself a favor and give them a try. Especially if you have not experienced much in the way of dry Rieslings. These wines will challenge a lot of preconceived notions that people have, and if nothing else, you will have tasted some wines from one of the most interesting wine regions in Europe.
SaveSave
SaveSaveSaveSave
SaveSaveSaveSave
SaveSave